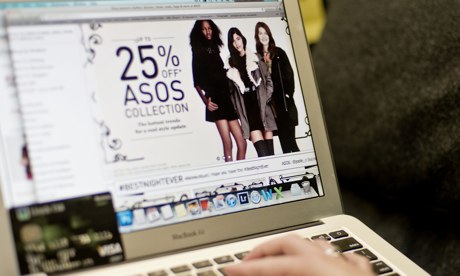 Online fashion store ASOS enjoyed a bumper rise in sales in the last four months of the year as a swathe of new figures from retailers emphasised the growing influence of the internet.
Sales at Asos - which has become a top destination for fashionable teen and twentysomething shoppers in countries ranging from China to the United States - jumped a better than expected 38% to £336m in the four months to the end of December. Sales in the UK, Asos' biggest market, increased 37% to £134m.
Nick Robertson, Asos chief executive, said: "We have been benefiting from a structural shift online for 10 years. By constantly improving the offer to our fashion-conscious twentysomething customers they are rewarding us with more sales."
The British retailer said it was planning to double the size of its distribution centre in Barnsley by the end of this year, creating at least 300 more jobs, and open a new facility in northern Europe within the same time period as it battles to keep up with soaring demand.
"With all the opportunities we have we think we will continue to grow at these sort of rates," said Nick Robertson, who founded the business to sell celebrity lookalike fashions - As Seen Discount Screen - 13 years ago.
However, shares in the company slid 3% to £66.44 after touching a high of more than £70 last week, as some analysts said ASOS sales in Australia had been slightly disappointing partly because of currency changes. There was also a slowdown in growth in the US. Robertson admitted: "We are not fully formed in the US."
Meanwhile, shares in men's outfitters Moss Bros soared 22% as the company said it had enjoyed a near-13% rise in underlying sales in the five weeks to January 11, while gross profits had also lifted. The company said it would be increasing its dividend payments for the year more than fourfold to 5p a share. Analysts credited the better than expected trading at Moss Bros to improvements to its website which had helped it clear unwanted stock quickly online rather than through stores.
Karen Millen, the privately-owned premium fashion chain, said that its sales had also been lifted by its online performance over Christmas. Its UK, Republic of Ireland and online sales rose 12% for the three weeks to January 4. However, sales growth in newer markets including Spain, France and Denmark was stronger.
The influence of the internet on supermarkets was underlined with new data showing online grocery sales soared 22% in the 12 weeks to January 5, compared with the same period a year before, according to analysts Kantar Worldpanel.
Ed Garner, director at Kantar, said supermarket group Morrisons' lack of an online store was a key factor in its 1% slump in grocery sales during the period. Garner said the figures did not back up Morrisons chief executive Dalton Philips' claim that the chain had been hit harder by competition from discount chains Aldi and Lidl than its major rivals such as Tesco or Sainsbury's. He said the evidence was that Morrisons was suffering because of its focus on large supermarkets. "Morrisons barely has any convenience stores and has only just gone online so in effect it was not in the two fastest grocery channels," he said. Garner said the latest figures indicated that both Tesco and Asda saw sales fall in their large stores, although Sainsbury's continued to see growth. Morrisons finally launched its internet service in Warwickshire on Friday in partnership with Ocado, hoping to reboot sales after a dismal festive season forced it to issue a profit warning last week.
Kantar figures made clear that discounters Aldi and Lidl were the big winners over Christmas. Aldi grabbed nearly 1% more market share compared with a year before as sales rose by nearly 30% while Lidl's sales rose 17.5% and tiny Farm Foods, the frozen food chain, achieved a stellar 41.9% growth rate.
Sainsbury's was the only one of the major supermarkets to hold its share of the market year-on-year as strong growth online and at its large chain of convenience stores as well as a good reputation on food quality helped it fight back against the discounters.
As more shoppers choose to buy bulky goods online and then top up at handy local stores, convenience store group McColls also said it had enjoyed a good Christmas. Underlying sales rose 1.5% at the retailer which is tipped to float on the stock market this year.